Back To Our Services
One of the largest pieces of equipment in any home is the garage door. When in operation, it looks like a single piece of door moving up or down in an effortless manner. What is not obvious is the more than 300 independently moving parts, which work quietly in the background. Depending on the type of garage door, it can last for up to seven years of worry-free operations.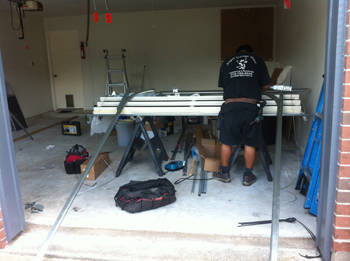 The modern garage door is designed to be modular and safe. However, when something happens, and a part is damaged, it has to be repaired as soon as possible. The smooth and quiet operation of the garage would change, signifying damage somewhere in its mechanism. The noise it makes, as well as any shaking will be an indication of how extensive the damage is. In addition, any damage that can make the door shake or vibrate while in operation can also damage the other moving parts.
When in need of repair, Garage Door Repair in Chicago is a handy company to have on your address book. We offer quick repairs, as well as installation, support, maintenance of the most popular garage doors. We understand that a damaged garage door means that either you cannot open the door or close it properly. We know that it can cause further damage that it can threaten the security of your home, as well as increase your heating costs.
We Know Garage Doors Like the Back of Our Hands
Problems with garage doors can be anything from a skewed door, to off-track rollers and broken springs and cables. Usually, these can be safely fixed. However, there are some parts that require expert knowledge, skill and experience. In addition, most repairs would need to have the garage door physically taken down off its support. Repairing a garage door can take up to most of a day. Depending on the extent of damage, there might be some other affected parts that can cause further damage later on.
Having a reliable repairman and support for your garage door means that you would have less to worry about. Among our services in Chicago, we can also give your door a regular preventive maintenance and check up, as well as a tune up, which would include inspections and lubrication.
Back To Our Services